For photos/videos of Minneapolis Festivals, please visit
https://www.facebook.com/ISKCONMINNEAPOLISUSA/
---
                                             : Quote to remember always :
 "We have to be always convinced that whatever situation Krishna puts us in, is suitable for us to perform Bhakti. If this full trust is there , then Krishna will never cheat us."
"Our business is to chant Krishna's names and Krishna's business to sort out our problems"
---
Govardhan Puja Oct 20th, 2017 – Friday.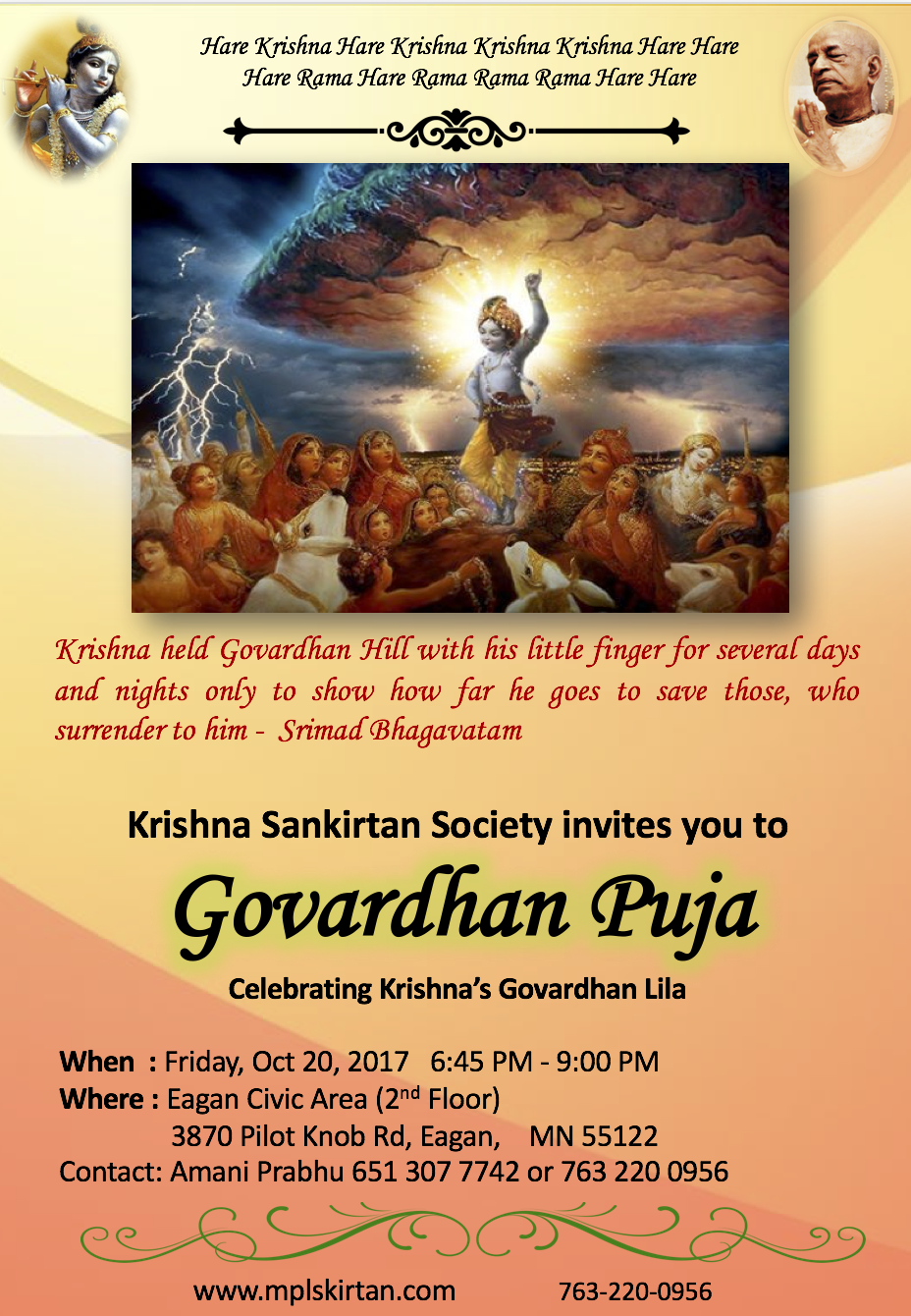 ---
Every month: 1st and 3rd Saturdays Program:
---
Taste of Bhakti Yoga:
---
First Unitarian Society,
900 Mount Curve
Minneapolis MN 55403
Timings: 5:30 PM to 8:00 PM
Contact: 763-220-0956
————————————————————————————————————————
---
Gita Jayanthi Celebrations at Bhakta Ramakrishna Prabhu's place and Bhakta Gagan Mahajan's place
---
Simpson's homeless shelter prasadam distribution pics
---
---
ISKCON Minneapolis is a devotional community with various outreach activities and kirtan programs which are aimed to systematically propagate spiritual knowledge to society at large and to educate all people in the techniques of spiritual life in order to check the imbalance of values in life and to achieve real unity and peace in the world.
Our aim is also to bring the members of the Society together with each other and nearer to Krishna, the prime entity, thus developing the idea within the members, and humanity at large, that each soul is part and parcel of the quality of Godhead (Krishna)